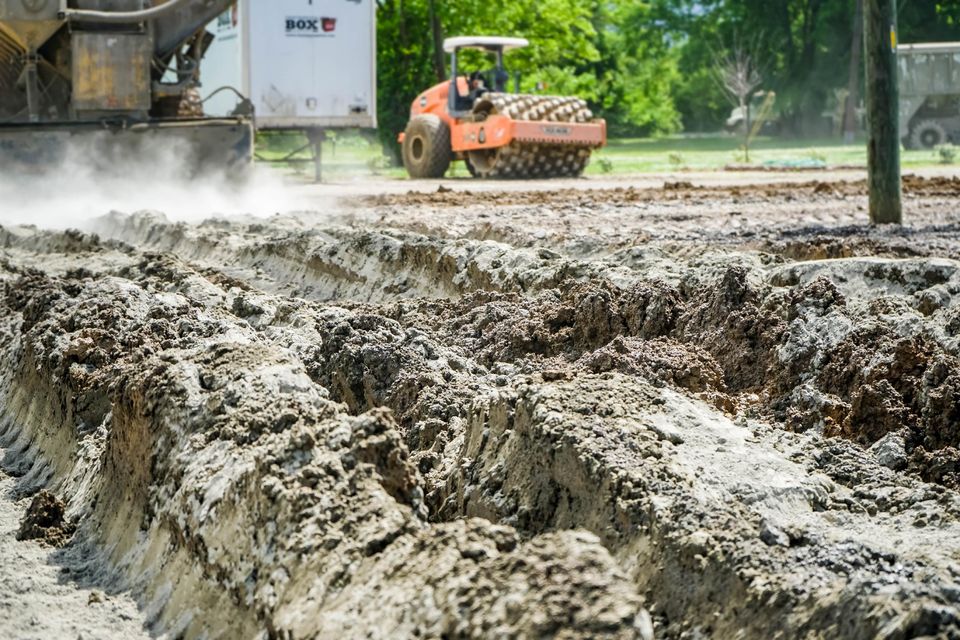 Soil Modification Stabilizes Soil
It is common during new or reconstruction projects to run into subgrade soil that needs to be modified. This is especially true in areas that can stay wet, or have a soil makeup that creates problems once a building, road, or parking lot is stationed above it. Moisture laden soil can be modified with the use of lime, fly ash, cement, or other additives that significantly reduces the risk of unstable subgrade. This helps reduce the chance of heavy equipment sinking into the construction site, or a foundation shifting and becoming problematic to the stability and safety of the building above.

Terra Firma Soils Experts Come Evaluate the Soil on Your Jobsite
While most soil modification is needed due to ground moisture, there are other conditions such as soil content, climate, and potential damage from natural hazards (think hurricane impact in Mobile) that dictate a need for additions to the soil to help mitigate potential problems. These could include storm surge and excessive tides, high road traffic, earth tremors, and other issues. When our expert team comes to your job site to assess what needs done, we take into consideration the soil's plasticity, moisture content, dry density points, shrink and swell potential, and the actual load bearing capacity of that type of soil. We also will plan if possible for potential problems and issues that occur in your area but are unpredictable, like storm surge and flooding, that can affect the stability of your road, drive, landing strip, or building foundation.

There are a number of means to improve the properties of soil to provide a construction platform that is more stable and reliable. The method chosen to improve stabilization of the soil depends on several factors, including the type of soil (gravel, sand, loam, silt, clay), the ground moisture, local climatic conditions, proximity to natural features such as a waterway or the Gulf, and the requirements for substrate for the type of construction being done. The older tried and true method of compaction and stabilization now has modifiers that are utilized that are much more cost effective, easier to apply, and are much faster to add and complete, thus saving on construction time and job costs. Some of those modifications include the addition of lime, fly ash, cement, calciment, engineered emulsions, polymers, and even geofiber depending on the circumstances.

Terra Firma Soils Save Job Project Costs
Soil modification has many pluses for a construction site. Excavation and removal of existing substrate, subbase or foundation can be expensive to remove, haul, and then have to arrange and pay for disposal. It is also time consuming and is not a best practice for environmental or sustainability purposes. By improving the existing soil through reduction of water content, often referred to as "mud drying", significant time and savings are realized. Most soil modification takes about 50% less time than traditional excavation and disposal, and often averages about 80% less expensive than other methods. Since existing "below standard" material or fill can be modified, there is a limited amount of additional fill needed at the jobsite, saving more money.

Modified soil often utilizes reclaimed and recycled materials, or byproducts of other industries. Terra Firma has the tools necessary to mix, grade, compact or spread large areas, such as wind farm bases, parking lots, roadways, runways, and foundations. We specialize in building pad dry-outs, done effectively and fast so you can get to work sooner. The final product offers good stability, strength, reduced swell or shrinkage, and controlled plasticity of the soil under your project.

We Are The Experts on Soil Modification 
At Terra Firma we specialize in helping you stay on budget and on time for your jobs. By modifying soil, your construction season is extended and you can get more jobs completed because we can help lessen the impact of weather and weather events on your project. We have many years of experience and match the needed modification for your job to the soil type and conditions. We work hard to find the most cost-effective solution whether you need a quick mud and bog fix or have to recover areas from hurricane impact. Give us a call for a free estimate. We serve all areas around Chattanooga TN to Mobile AL and in between. You will be glad you contacted Terra Firma and got your job done on time, on budget, environmentally safe and expertly completed.