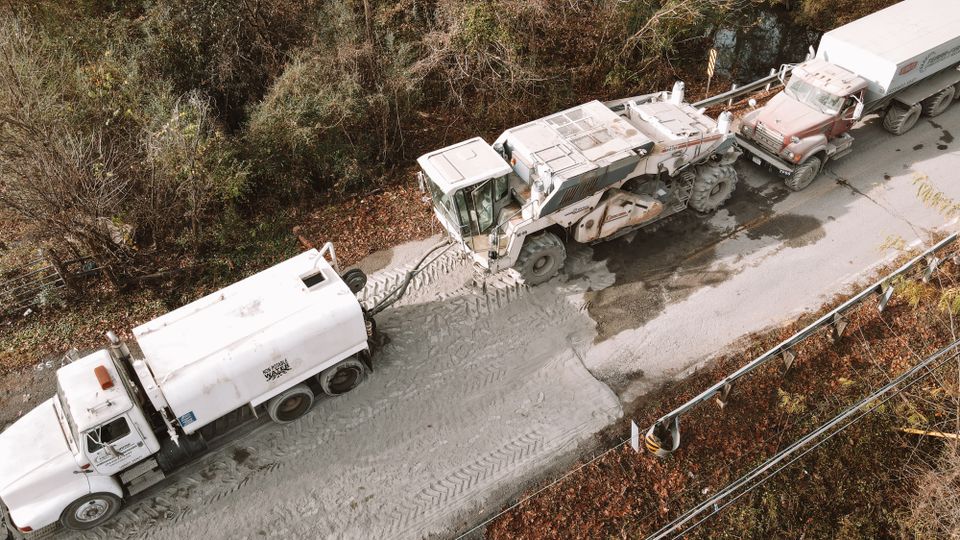 How Full Depth Reclamation Helps Your Project 
At Terra Firma we believe that being environmentally responsible while being a bit  frugal is a good thing. One of the newer ways to utilize materials at job sites is the process of full depth reclamation. FDR is especially helpful for roadbeds being repaved, but can also be utilized in some other construction situations. FDR uses the existing flexible pavement, such as bituminous asphalt, base stone, or sub-grade, and removes them, pulverizes them, mixes them with water, and the necessary binding materials, and then uses that recycled material to set the grade on the job. Next comes the cement or solid base that is pulverized, mixed, and it is set to grade. This results in a strong, stable base that is low maintenance, distributes weight and downward pressure better, and has much improved moisture intrusion prevention. This creates a road with a better surface, improved stability, and is long lasting.

Save Time and Money With Full Depth Reclamation
By reusing the existing road materials already on hand, your costs for excavation and hauling are reduced by 80-99%. You keep materials out of the landfills, reducing your dump and in some cases hazardous disposal fees.  It also reduces by up to 15 times the amount of new roadbed material needed for the job (a considerable savings both in time and money). Depending on the location of the bed, type of bed material, and other factors, the time saved having your road base full depth reclaimed can be 30-80%. You also end up with a road that is stronger, more stable, and resists moisture. This is especially important in areas such as the Gulf Coast that experience storm surge and excessive rainfall during storms.

Full Depth Reclamation is Environmentally Sound
Terra Firma Soils believes in smart use of resources and environmentally sound practices. That is why we follow the policies and were awarded LEED (Leadership in Energy and Environmental Design) certification as well as USGBC-Eco Friendly (United States Green Building Council) status. By reclaiming the substrate and sub-base materials from your roadbed project, huge amounts of hard waste are kept out of landfills and dump sites. It also saves your company money and time, keeping your bids competitive and your job time on target.

How to Eliminate Deep Cracks and Premature Sagging When Resurfacing Roads
Base under roadways has always been the bane of any project engineer. Asphalt by nature allows water to percolate down into the base, causing it to deteriorate and break apart. It also has the habit of developing potholes, dips, and deep cracks, all of which contribute to expensive but absolutely necessary maintenance. Often maintenance is a surface fix, with mill and fill overlay that does not help the root of the problem - compromised base. This creates a vicious cycle of damage, fix, more damage, fix some more. Wouldn't you like to not have to revisit and repair roadway jobs as often?

We often utilize Engineered Emulsion (water, a small amount of asphalt, and an emulsifying agent), as an FDR additive that helps increase the moisture resistance of pulverized recycled base material. It helps make for a smoother, better ride surface and helps reduce overall long term maintenance. It is most often used in cold in place reclamation, where a milling machine and mixer are used together to remove, pulverize, and mix for regrade of the recycled pavement materials.

At Terra Firma Soils, we recommend full depth reclamation to deal with those problems. By removing the base down to as much as 20", pulverizing then reclaiming it with appropriate additives (mechanical, chemical, or bituminous materials) to increase stability and strength, your job ends up with a solid, stable, durable substrate that lasts. Goodbye long, deep pavement cracks. Laugh at moisture intrusion. The structural integrity of the reworked road or parking lot modification will hold up over time and high traffic use without rough areas, ruts, and pot holes developing. At Terra Firma Soils we believe in addressing and fixing the underlying issues on roadways, not just covering them up. While local traffic, weather conditions, natural disasters, condition of the current subgrade and existing pavement all affect the lifespan of roadway, we have found that driveways and parking lots that utilize FDR and recycled pavement can last 15-20 years without substantial repair becoming necessary.

Terra Firma Soils is LEED and USGBC-Eco Friendly
The on-site process of full-depth reclamation is a cost effective, environmentally smart solution versus the cost of excavation and removal of existing roadway. (We do offer spreading services if you need them.) Natural resources are conserved, fuel costs, aggregate, new roadway materials, and man hours are reduced on the project. Jobs stay on time and can be completed faster. Load disbursement and surface strength on the new roadway is improved. At Terra Firma, we believe in keeping the region from Chattanooga TN to Mobile AL cleaner and ecologically healthier for the next generation. And smart use of funds, especially public, to pay for roadways that provide a better final product is always a good thing. When your company is deciding what to do about driveways, parking lots, and roadway reconstruction, call us for a quote, or tell your contractor you want to utilize Terra Firma Soil's full depth reclamation on the job. You will save time, money, and resources. Our estimates are free and we travel the entire area from Chattanooga to Mobile.